SpectRx develops portable optical spectrometer for monitoring hyperbilirubinemia in newborn infants.
Oregon Medical Laser Center Newsletter, Nov. 1997. Steven Jacques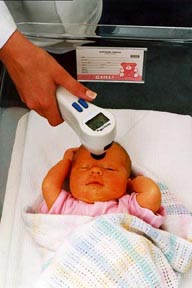 Figure shows newborn being measured for skin levels of bilirubin using SpectRx's new portable white-light reflectance spectrometer. The optical device replaces testing based on a blood sample drawn by heel stick which is quite painful for the newborn. (image copyright SpectRx Inc., Norcross, GA.)
SpectRx Inc. (Norcross, GA) has developed a portable optical spectrometer for monitoring hyperbilirubinemia in newborn infants. The familiar yellow "jaundice" of many newborns is due to a hemoglobin breakdown product called "bilirubin". When serum bilirubin levels exceed the holding capacity of the serum albumin, the bilirubin begins to diffuse out into the skin and into the brain. The bilirubin in the skin causes the yellow appearance of "jaundice". The bilirubin in the brain will precipitate to cause a condition called "kernicterus" which leads to permanent brain damage. Hence, hyperbilirubinemia is taken very seriously by clinicians.
The concept is not new. Minolta (Japan) developed an early optical monitor based on the blue/green ratio of reflected light. Calibrated on hundreds of Japanese infants, the correlation between the optical measurement and the serum levels was good. However, when the product was marketed internationally, the device performed poorly on infants with skin pigmentation that varied from the relatively homogenous brown of the tested Japanese population.
The inventor, Prof. Steven Jacques, Univ. of Texas M. D. Anderson Cancer Center, Laser Biology Research Lab., decided to revisit the concept but apply the basics of skin optics. Under funding from the Whitaker Foundation, he developed an algorithm which uses the spectrum of white light reflectance to separately specify:
the dermal reflectance that varies with collagen fiber development and depends on gestational age and hydration status
the epidermal melanin content that gives skin its pigmentation and varies with race and individuals
the cutaneous blood content which varies with individuals and with the amount of pressure used during measurements
the cutaneous bilirubin which indicates the risk of bilirubin leakage into the brain.
Prof. Jacques tested the idea with an MD/PhD student (Iyad Saidi, Baylor College of Medicine and Rice University), a pediatrician (David Oelberg, MD), and a research nurse (Anne Ladner, RN) at Herman Hospital Neonatal Intensive Care Unit, Houston, Texas.

SpectRx licensed the patent and has taken the project to a clinical device which now is undergoing extensive clinical trials at Northside Hospital in Atlanta and Pennsylvania Hospital in Philadelphia. The hand-held battery-powered device utilizes a thin-film spectrometer on a chip and a microprocessor. Light is coupled to and from the skin by an optical fiber bundle assembly.

Healthdyne Technologies, Inc. will market the device and disposable tips in the U.S. and Canada. SpectRx will sell the device and disposables in all other markets. More information can be found at the SpectRx website http://www.spectrx.com/bili1.html. The device is still in clinical trials and has not yet received FDA approval.

For product information contact SpectRx Inc., Norcross, GA
For scientific information contact Steven Jacques at jacquess@ohsu.edu , Oregon Medical Laser Center, Portland, OR

---