Fixing the focal length automatically¶
We need to do three things
tell OSLO what can be varied
tell OSLO what error should be minimized
tell OSLO to iterate
The parameter to be varied¶
The first is really easy. Just mark the radius of curvature of the first surface as variable

Defining the error¶
Defining the error can be an elaborate process. However, we just want OSLO to set the EFL to 100mm. To do this we select the menu item
Optimize -> Generate Error Function -> Aberration Operands
and change the three entries shown below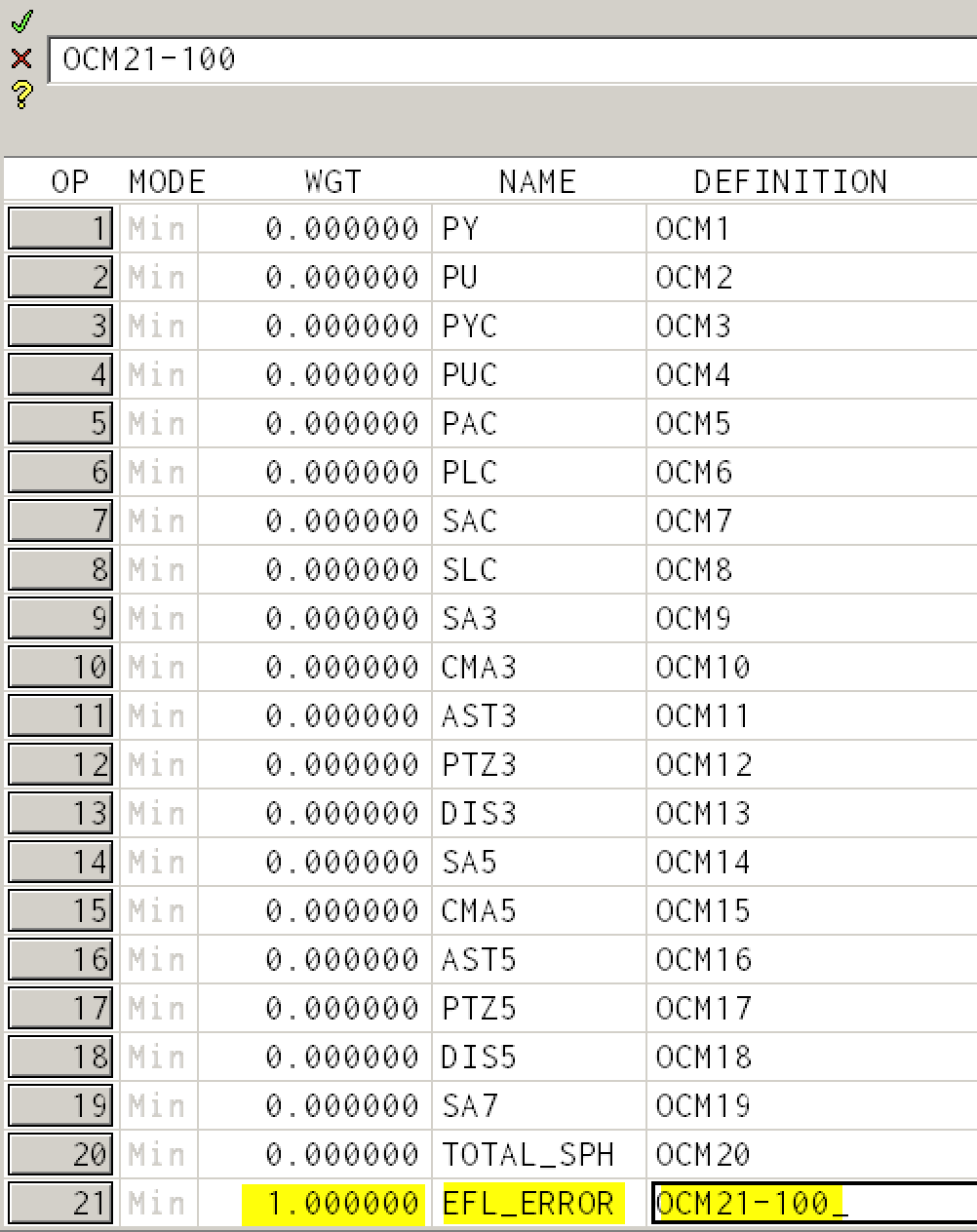 The first column is the weighting or emphasis to place on a particular source of error. Since we only care about the EFL, we the entire contribution to come from this line and we set the value to 1.0. (All the other lines are ignored because their weights are zero; only line 21 matters now.)
The second column is a name for the parameter that is being minimized. We rename the line to EFL_ERROR for clarity. Unsurprisingly, this line will represent the "error in the effective focal length". Non-zero values of EFL_ERROR indicate that the automatic minimization process is not finished.
The third column is how the variable EFL_ERROR will be calculated. Since the internal OSLO variable named OCM21 is equivalent to the EFL, we want OCM21-100 to be zero.
In this way, we have defined an OSLO error function that will be zero when the EFL=100.
Iterating¶
Select the menu item
Optimize -> Iterate
and click OK. (If the Iterate item is not functional, make sure that you have defined the curvature of surface 1 as "Variable" and have defined your error function as discussed above.)
After you ask OSLO to manually paraxially focus the image surface again (via the button in the THICKNESS column of the IMS row), you should obtain

The highlighted entries show that the EFL is now 100mm.