ECE532 Biomedical Optics
© 1998 Steven L. Jacques, Scott A. Prahl
Oregon Graduate Institute
Absorption spectra for biological tissues
The figure below shows the primary absorption spectra of biological tissues. Also shown are the absorption coefficients at some typical laser wavelengths.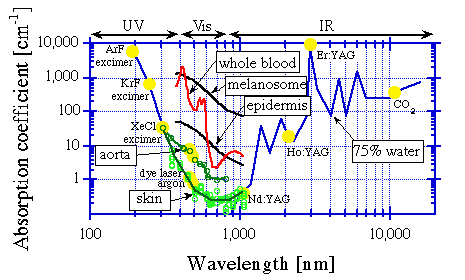 There are several major contributors to the absorption spectrum:
In the ultraviolet, the absorption increases with shorter wavelength due to protein, DNA and other molecules.


In the infrared, the absorption increases with longer wavelengths due to tissue water content. Scaling the pure water absorption by 75% mimics a typical tissue with 75% water content.


In the red to near-infrared (NIR), absorption is miminal. This region is called the diagnostic and therapeutic window (originally by John Parrish and Rox Anderson).


Whole blood is a strong absorber in the red-NIR regime, but because the volume fraction of blood is a few percent in tissues, the average absorption coefficient that affects light transport is moderate. However, when photons strike a blood vessel they encounter the full strong absorption of whole blood. Hence, local absorption properties govern light-tissue interactions, and average absorption properties govern light transport.


Melanosomes are also strong absorbers. However, their volume fraction in the epidermis may be quite low, perhaps several percent. So again, the local interaction of light with the melanosomes is strong, but the melanosome contribution to the average absorption coefficient may modestly affect light transport.


---